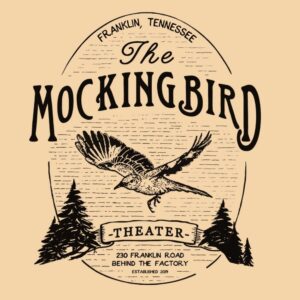 The Mockingbird Theater
Over the years, Building 6 at the Factory has been home to the Boiler Room Theater and, more recently, The Little Brick Theater. Now, the Mockingbird Theater is a state-of-the-art music venue managed by Will Jordan, owner of The Legendary Kimbro's. Kimbro's opened in 2005 as a pickin' parlor by songwriter Ron Kimbro. In 2007, Will Jordan became a partner and changed it to a music venue. Jordan, a veteran photographer and writer, also owns neighboring Carpe Diem, Franklin's first record shop. In 2014 Kimbro retired, handing over the reins to Jordan. Kimbro's won second place behind The Ryman Auditorium for "Best Live Music Venue" in one of The Tennessean's reader's polls and second place behind The Bluebird for "Best Open Mic" in The Nashville Scene's reader's poll.
The Mockingbird Theater offers a full bar — serving beer, wine, spirits, and food — as well as special events and productions, with an emphasis on live music in Franklin, TN. The space hosts bands of all genres on a regular basis.